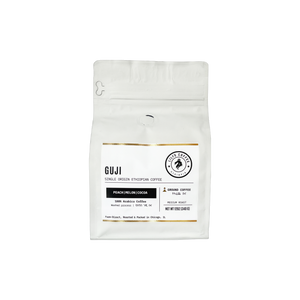 Lily's Coffee
Washed Guji Medium Roast
Sale price Price $13.00 Regular price Unit price / per
Size
12oz
Grind
Whole Bean 
Ground
Try the unique coffee experience of our medium roast Guji coffee! Handpicked and washed processed, it offers a sweet aroma and clean taste. Roasted to perfection, this premium coffee offers notes of peach, melon, and cocoa. Enjoy an unparalleled taste crafted from the finest beans.
Roast: Medium 
Flavor Notes: Peach, melon, cocoa
Region: Shakiso, Guji Zone
Producer: Haile Gebre (Moredocofe)
Varietals: Ethiopian Heirloom
Altitude: 1,900 – 2,200 meters
Processing: Washed and dried on raised beds
Description
Our Ethiopian Guji Coffee is 100% Arabica coffee of single origin grown exclusively in the Guji zone. Our family farm is located in the jungle of dawa basin at about 520km south of Addis Ababa in the Guji zone of Oromia Regional State.
Guji zone was previously classified under Sidamo but has proven itself distinct to be established as a unique production area in 2002. It has a unique and distinctive cup profiles, which has gained its status in the coffee industry. This distinctiveness comes from the unique combination of factors in this production area, including rich, fertile soil, high altitudes, and exceptional heirloom varieties.
Haile Gebre is the founder of Shakiso farm and Moredocofe PLC, official name of Haile's business. Under Moredocofe, he operates a dry mill in Addis Ababa where Shakiso coffee is processed. Shakiso is a 640-hectare semi-forest farm producing high quality organic, Rainforest Alliance and Fairtrade USA certified coffee. Shakiso coffees have classic and pronounced Guji profiles, including: citrics, florals, and stonefruits.  
Haile manages large coffee estates and provides a steady income for local smallholders and pickers. Haile collects cherries from 380 neighboring out growers and processes at Chamola and Hangadi washing or drying station. On top of this, Haile hires 300 seasonal workers to pick cherries at his farms arm during harvest. By choosing Lily's coffee you are directly supporting a better life for eco-friendly out growers and their families.